Over 3000 from which to choose – single patterns and booklets from most yarn companies as well as private designers.
Rowan yarn, books, and magazines available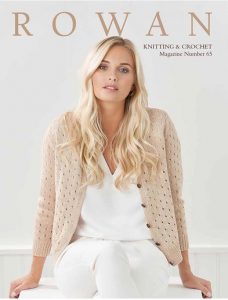 Rowan Knitting & Crochet Magazine No 65
Magazine 65 features three design stories using our popular spring summer yarns. Modern Heritage, 12 designs taking inspiration from heritage knitting techniques of the British Isles and Ireland.
Plain and Simple, 10 essential pieces, designed to compliment your wardrobe classics. Reflections, 20 designs using combinations of ecru, charcoals and muted shades to give a monochrome feel.
Latest patterns from Blue Sky Fibers
Calgary Capelet using new Skyland yarn of silk, alpaca and highland wool, and Gresham Shawl using Woolstock highland wool.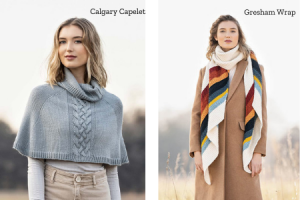 Magazines
New Books
Rowan Magazine No. 69 (we have magazine 54 – 68 in stock)
Mode Collection No 1 – 4
Carousel – Martin Storey
The Bloggers Edit – Quail Studios
Essential Brights – Quail Studios
Kim Hargreaves publications:
Winter – here
Hope – here
Drift – end of May 2021
Fall – August 2021
Adore – October 2021
Moordale 1 – Rowan
Moordale 2 – Martin Storey
Ease – Lisa Richardson
Learn to Knit at Home
Big Wool Brights – Rowan
Rowan Kids Summer Brights
Rowan Nautical Knits
Rowan Spring/Summer Magazine 67
Horizons – Rowan
Ocean Blue – Martin Storey
Moordale – Rowan
New Nordic – Arnie and Carlos for Rowan
Grey – Kim Hargreaves
Still – Kim Hargreaves
Calm – Kim Hargreaves
Myth – Kim Hargreaves
Mode Summer Crochet
Mode Summer Knit
Mode Collection 2
40 Years of Rowan – celebrating their anniversary.
Rowan Chunky Knits – Quail Studio
Rowan Winter Vintage – Kaffe Fassett
Rowan Nordic Men's Collection – Arne & Carlos
Rowan at Home – Martin Storey
Rowan All Year Round – Martin Storey
Rowan New Vintage DK
British Made – Lisa Richardson
Colorknits – Dee Hardwicke
Modern Family Knits – Jen Geigley
North Sea Collection – M. Wallin
Kaffees Colors – Kaffee Fassett
Around Holme – Lisa Richardson